Flange Boss Hydraulic Flange Spreader
The Flange Boss hydraulic flange spreaders are made right here in the USA. They are different from the standard spreading wedge style of flange spreader in that no one is required to hold these tools during operation. Flange Boss has utilized the safety features that were born in the mechanical version and brought them into a more powerful hydraulic unit.
To operate the Flange Boss, install your flangespreaders on opposite sides. Replace the flange studs with the flange boss pin to secure the tools and create the hands free operating system. Once both tools are installed, spreading the flanges only requires one person to operate the hydraulic pump. Spread to the desired width and insert a safety chock before working inside the flanges. When work is complete release the hydralic fluid and the tools will hang back down as they were when first installed.
The FS-101 Model fits flanges with 3/4" - 1-1/8" Stud Size
The FS-102 Model fits flanges with 1-1/4" - 1-5/8" Stud Size
FlangeBoss Hydraulic Flange Spreader
Flange Boss Super Maxi Kit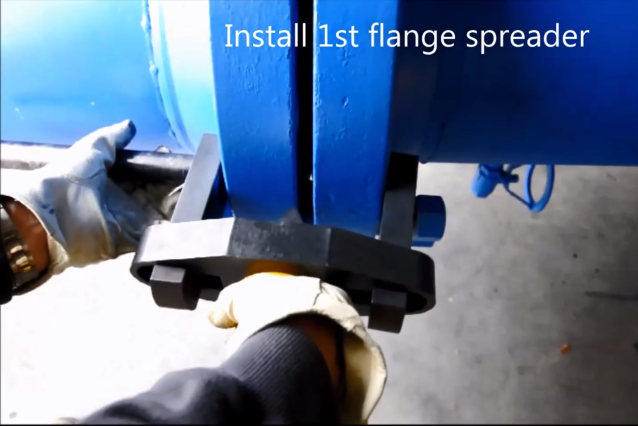 Flange Boss Hydraulic Install
Flange Boss Hydraulic
Flange Boss Initial Spread
Flange Boss Side